Overview


An Achilles tendon rupture is when part or all of your tendon is torn. The Achilles tendon connects the calf muscle in your lower leg to your heel bone. It allows you to point your foot down and to rise on your toes. A tear is caused by an injury or increased pressure, such as during sports or a fall. The following may make your Achilles tendon weak or stiff, and more likely to tear. A past tendon tear. Lack of physical activity. Abnormal bone structure in your foot. Obesity. Older age. Medicines, such as steroids and antibiotics.

Causes
Common causes of an Achilles tendon rupture include the progression of or the final result of longstanding Achilles tendonitis or an overuse injury. An injury to the ankle or a direct blow to the Achilles tendon. As a result of a fall where an individual lands awkwardly or directly on the ankle. Laceration of the tendon. Weakness of the gastrocnemius or soleus muscles in people with existing Achilles tendonitis places increased stress on the tendon. Steroid use has been linked to tendon weakness. Certain systemic diseases have been associated with tendon weakness. A sudden deceleration or stopping motions that cause an acute traumatic injury of the ankle. Injection of steroids to the involved tendon or the excessive use of steroids has been known to weaken tendons and make them susceptible to rupture. Contraction of the calf muscles while the foot is dorsiflexed (pointed toward the head) and the lower leg is moving forward.

Symptoms
The most common symptom of Achilles tendonitis is a sudden surge of pain in the heel and back of the ankle at the point of injury which is often described as a snapping sensation in the heel. After the injury has occurred, patients then struggle or find it near impossible to bear any weight on the affected leg. Pain can often be most prominent first thing in the morning after the injury has been rested. Swelling and tenderness is also likely to appear in the area.

Diagnosis
Your caregiver will ask what you were doing at the time of your injury. You may need any of the following. A calf-squeeze test is used to check for movement. You will lie on your stomach on a table or bed with your feet hanging over the edge. Your caregiver will squeeze the lower part of each calf. If your foot or ankle do not move, the tendon is torn. An x-ray will show swelling or any broken bones. An ultrasound uses sound waves to show pictures of your tendon on a monitor. An ultrasound may show a tear in the tendon. An MRI takes pictures of your tendon to show damage. You may be given dye to help the tendon show up better. Tell the caregiver if you have ever had an allergic reaction to contrast dye. Do not enter the MRI room with anything metal. Metal can cause serious injury. Tell the caregiver if you have any metal in or on your body.

Non Surgical Treatment
If you suspect a total rupture of the achilles tendon then apply cold therapy and compression and seek medical attention as soon as possible. In most cases surgery is required and the sooner this takes place the higher the chances of success. If the injury is left longer than two days then the chances of a successful outcome decrease. Cold and compression can also be applied throughout the rehabilitation phase as swelling is likely to be an issue with such a serious injury.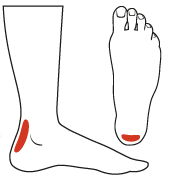 Surgical Treatment
The surgical repair of an acute or chronic rupture of the Achilles tendon typically occurs in an outpatient setting. This means the patient has surgery and goes home the same day. Numbing medicine is often placed into the leg around the nerves to help decrease pain after surgery. This is called a nerve block. Patients are then put to sleep and placed in a position that allows the surgeon access to the ruptured tendon. Repair of an acute rupture often takes somewhere between 30 minutes and one hour. Repair of a chronic rupture can take longer depending on the steps needed to fix the tendon.

Prevention
Prevention centers on appropriate daily Achilles stretching and pre-activity warm-up. Maintain a continuous level of activity in your sport or work up gradually to full participation if you have been out of the sport for a period of time. Good overall muscle conditioning helps maintain a healthy tendon.